Friso x Aviva Cereals 80% OFF Promotion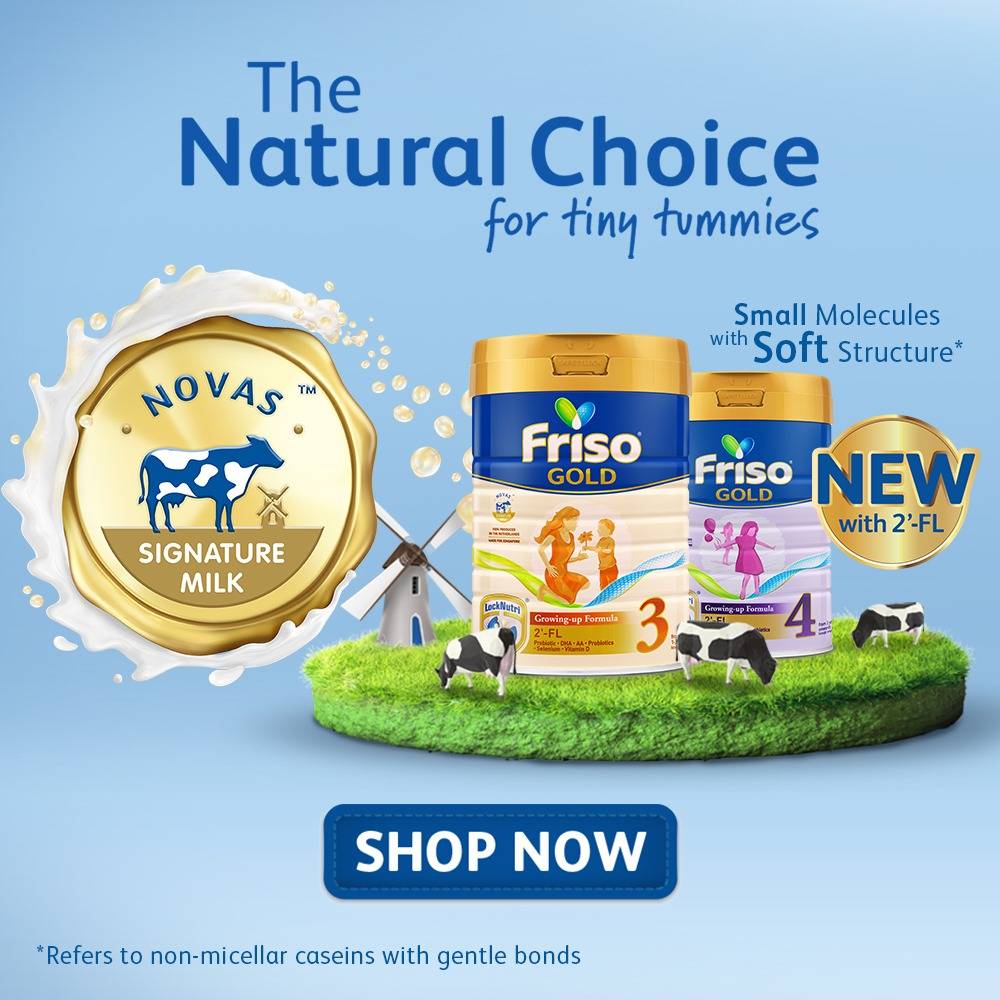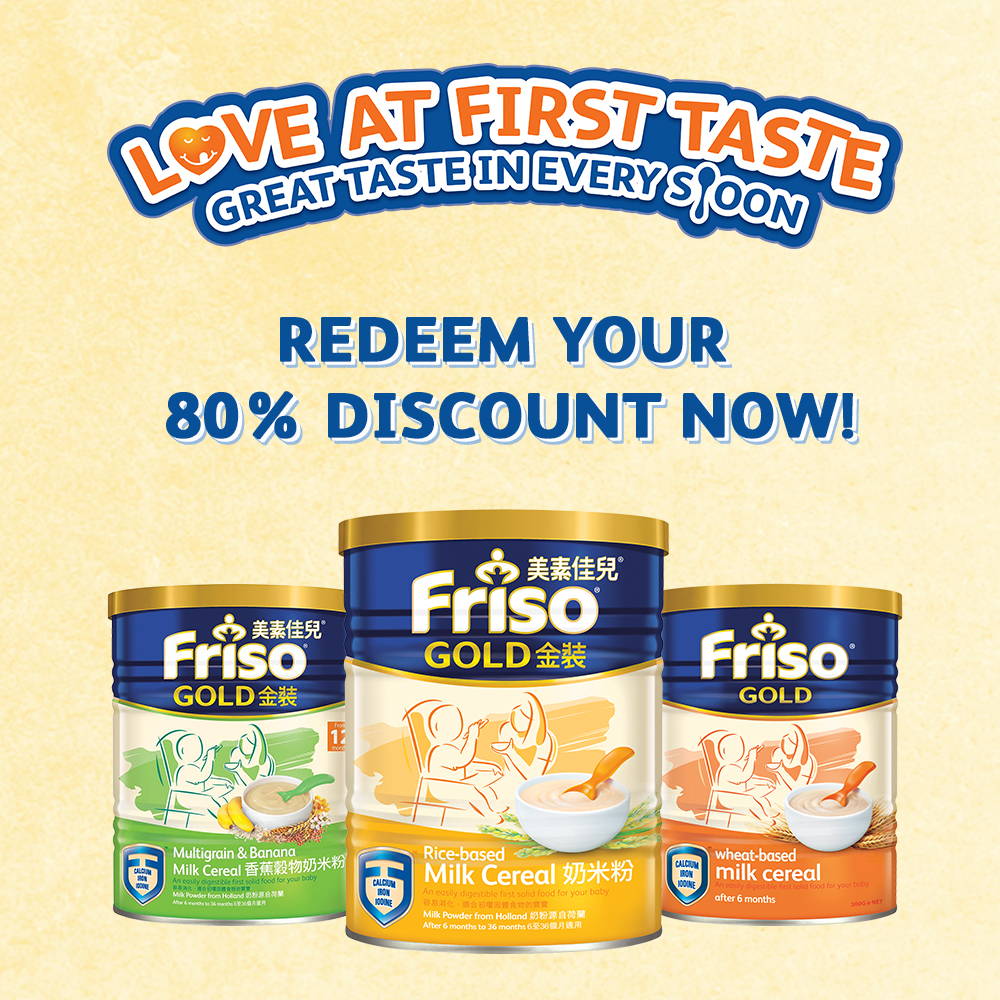 Hello, and welcome to Friso, the Natural Choice for tiny tummies.
How to redeem:
Step 1: Add one tin of your desired Friso Gold Milk Cereal (300g) to cart.
Step 2: Select your desired delivery date and apply the discount code when prompted:
Discount Code: AVFRCE80OFF
Step 3: Complete your shipping and payment details, then click Checkout. Your Friso Gold Milk Cereal (300g) will be with you in no time!
---
---
TERMS & CONDITIONS:
Redemption is limited to 1 tin of Friso Gold Milk Cereal (300g).
The discount code must be applied upon checkout for your order to be eligible for the discount.
Voucher is not refundable nor exchangeable for cash.
FrieslandCampina (Singapore) Pte Ltd is not obliged to replace any voucher, which has been lost, defaced, torn, damaged or stolen for any reason.
FrieslandCampina (Singapore) Pte Ltd reserves the right to vary, delete or add to any of these terms and conditions from time to time or terminate this promotion without prior notice
By participating in this promotion, you agree to the terms & conditions of this promotion and authorize FrieslandCampina Singapore Pte Ltd to send you marketing communication materials.
---
Friso Gold Milk Cereals to ease your child's transition to solids
As you wean your baby, they are likely to eat less until they become more familiar with solid food. The Friso Gold Milk Cereals range are rich in important nutrients to ensure your baby has a balanced diet. They are also made with milk powder so they taste more familiar to your baby. The smooth texture eases their first step into eating solids and is easier for little tummies to digest. It's easy for you too because Friso Gold cereals are prepared the same way as Friso Gold formula – just add water.
---
How to choose the right milk cereal for my child?
1. If your child is at least 6 months old and is trying cereals for the first time, start off with Friso Gold Rice-based Milk Cereal (300g). The fine texture makes it easier for your baby to get used to solid food.
2. Once your child has grown used to the Friso Gold Rice-based Cereal (300g), try the Friso Gold Wheat-based Milk Cereal (300g). The thicker texture encourages your baby to practice chewing and swallowing.
3. Once your child is 12 months old, go for the Multigrain & Banana Milk Cereal (300g) as it has an enriched texture with multigrain, plus banana bits incorporated into the formula to provide a new taste sensation.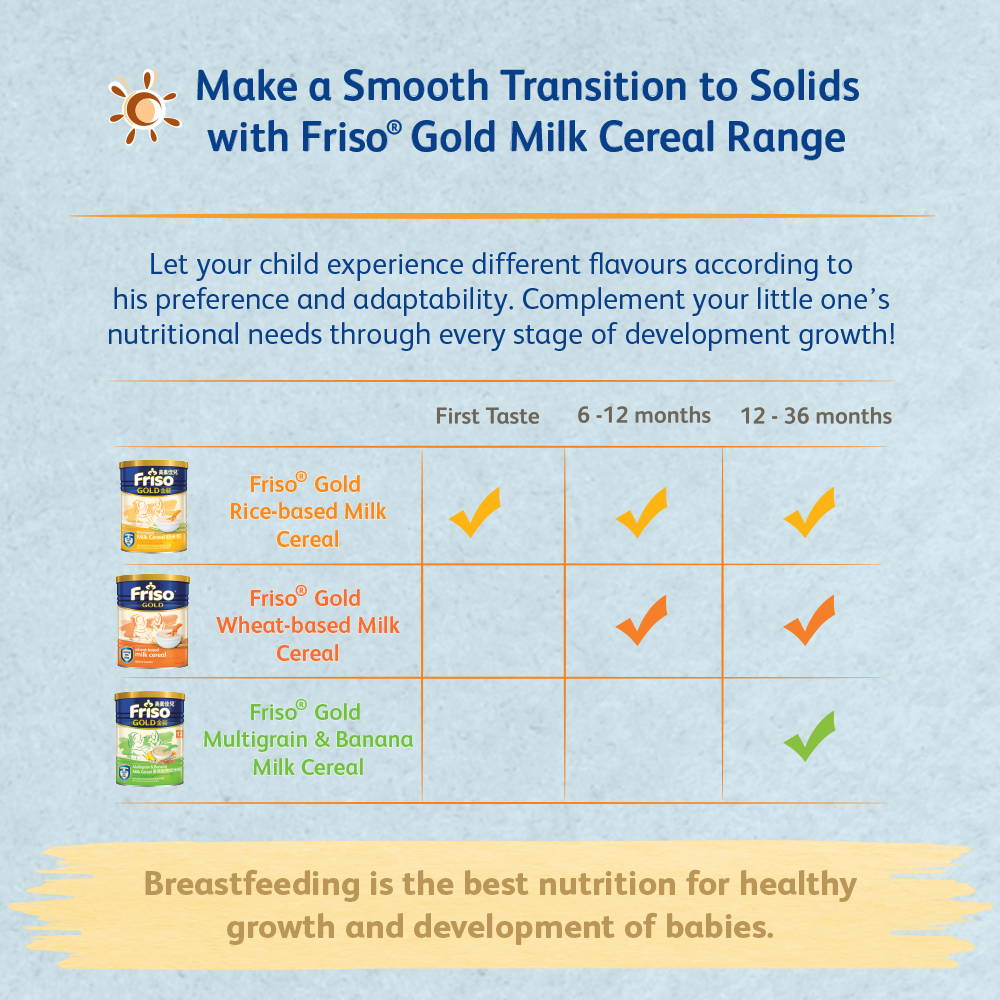 ---
CONTACT US:
If you have any queries or feedback about our products or services, get in touch with us any time and we'll do our best to help. You may reach us via contactus@friso.com.sg or +65 6419 8484.